Maritime Center and Public Tie-Up Floats
The Dartmouth Maritime Center is a state-of-the-art, public accommodation built on town owned land in the heart of Padanaram Village. The 530 square foot building stands on the corner of Water and Bridge Streets and includes two bathrooms, two showers, and a multi-purpose room used as a welcome center, meeting space, and seasonal space for Harbormaster Staff. The Center also includes a 1,500 square foot public promenade and viewing deck with bench seating and an aluminum gangway leading to a floating dock system used for short term tie-ups.
The Maritime Center floating dock system provides local mariners and visiting transients with direct access by water to the provisioning, services, and shopping opportunities that Padanaram Village and the Dartmouth community at large has to offer. This seasonal facility is open to boaters and the general public from Memorial Day to Columbus Day each year.
This project was funded with Seaport Economic Council grants, Community Preservation funds, and funds from the Waterways Enterprise Fund.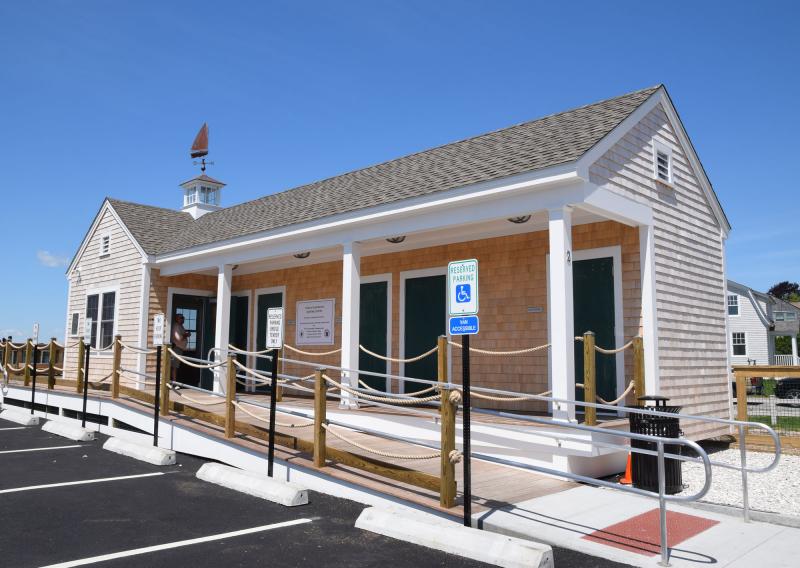 Showers and Toilets
In season, there are two public use toilets and showers available.
Hours: 6:00 AM – 9:00 PM seasonally
Public tie-up and Pumpout Station
Tie up allowed for free. Gangway and floats are accessible to the public from 6AM to 9PM. Gates will be locked and there will be no access from 9PM to 6AM – please plan your visit accordingly.
Pumpouts are available from the end of the dock. The pumpout station is self-service, or you can call the Harbormaster on VHF 09 to ask for assistance.